The Complete Life and Times of Scrooge McDuck Deluxe Edition (Hardcover)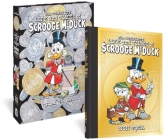 $250.00

Call or email to ask for estimate.
Description
---
An unprecedented comics collection of Scrooge McDuck's life story, this epic Duckburg serial is back for keeps in a beyond-complete oversized full color deluxe edition—and comes slipcased with a special commemorative coin, available nowhere else!
From his shoe-shining boyhood in Glasgow, Scotland, to his gold-hoarding adulthood in Duckburg, Calisota, Uncle Scrooge McDuck has lived a life of legend… a legend founded by Scrooge's creator Carl Barks and carried on in Don Rosa's signature series, "The Life and Times of Scrooge McDuck!" Now join Scrooge, Flintheart Glomgold, Goldie O'Gilt, and more for the most amazing edition ever of Scrooge McDuck's biography. The original twelve chapters — and the many "in-between" chapters and related stories — and every last cover and pin-up are all in this money bin-sized book!
Don Rosa, among the world's most beloved modern cartoonists, launched his two-decade, Carl Barks-inspired Disney comics career in 1987, with "The Life and Times" winning the Will Eisner Comic Industry Award in 1995 for Best Serialized Story. Presented with brilliant color and a treasure trove of Rosa's behind-the-scenes factoids, this taller, wider deluxe edition shows off Rosa's hyper-detailed artwork to full, glorious effect and comes slipcased with a special commemorative coin available nowhere else! This is the definitive Scrooge McDuck for longtime fans and collectors!
Item dimensions for The Complete Life and Times of Scrooge McDuck Deluxe Edition:
Product Carton: 14.4" x 18.1" x 2.6"
Slipcase: 11" x 15" x 2"
Hardcover: 10.75" x 14.5" x 1.75"
About the Author
---
First active in comics as the indie creator of Captain Kentucky and The Pertwillaby Papers, Don Rosa (b. June 29, 1951) made his jump to official Scrooge sagas with the launch of Gladstone Publishing, the watershed 1980s publisher of fan-friendly Disney comics titles. Rosa later switched to producing Duckburg comics for the pan-European publisher Egmont, leading to his capturing a remarkable international fandom. He lives near Louisville, KY.

David Gerstein is an animation and comics researcher, writer, and editor best known for his work with The Walt Disney Company and its licensees. His published projects include Uncle Scrooge and Donald Duck: The Don Rosa Library (Fantagraphics, 2014-2018) and Mickey Mouse: The Ultimate History (with J.B. Kaufman; Taschen, 2018). He lives in North Carolina.
Praise For…
---
The best combination of modern and classic Disney in one collection.
— The New York Journal of Books

Rosa crams every chapter of his serial with wordplay, historical nuggets, throwaway sight gags and references to his favorite old movies.… and the idea he ultimately focuses on is a lovely one: that the reason Scrooge is so obsessed with not just wealth but money itself is that he's earned all of it through hard work, and each coin is a souvenir of an adventure from his extraordinary life.
— The Washington Post

If you love art, you need this oversized, deluxe edition that shows off Rosa's hyper-detailed artwork to full, glorious effect.
— D23