This Land Was Made for You and Me (But Mostly Me): Billionaires in the Wild (Hardcover)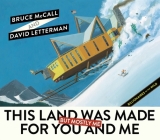 Description
---
The billionaire Russian "oiligarch" whose replica of Czar Alexander II's yacht plies a vast man-made Crimean lake, brimming not with water but billions of gallons of petroleum from his own pipeline…

The packaged-suttee mogul Sir Sith Ram Pramba, who sliced the top off Mount Everest and installed it on his terrace atop a Park Avenue apartment building…

The heir to a California railroad spike fortune who uses a private cross-country tunnel, assembled from giant redwoods laid end to end, for 120-mph runs in cars from his exotic équipe between San Francisco and New York…

The vast Montana lodge where Gulfstreams land in the living room and an ex-CIA drone ferries fresh casks of Côtes du Rhône along the three-mile route between the wine cellar and the dining hall…

The unsinkable forty-room polystyrene iceberg cum floating vacation retreat where Claude Ste. Nervous, the Quebec Styrofoam king, cruises the Arctic Ocean in high summer and, riding on his tamed polar bear, hunts for baby seals…

These and dozens more of that new breed of swashbuckling post-millennial Midases dedicated to self-indulgent fun—whatever the cost in money, ecological mayhem, environmental devastation, and other such nuisances—are celebrated in This Land Was Made for You and Me (but Mostly Me), this lavishly illustrated chronicle that nobody expected or even wanted, but that Bruce McCall and David Letterman went ahead and created anyway.
About the Author
---
Bruce McCall is a Canadian expatriate who began his career in a commercial art studio, switched to journalism and then advertising, and began writing and painting humorous subjects in the seventies, first with National Lampoon and ultimately for The New Yorker, where he has done fifty covers. McCall has published six previous books, including Thin Ice, a memoir about growing up Canadian. He lives in New York City.
 
David Letterman is an American television host.
Praise For…
---
"Author and illustrator McCall teams up with late-night host Letterman for this brilliant parody of the lifestyle of the One Percent, the richest of the American rich....The text is witty, and McCall's illustrations are beautifully executed...much to laugh at here."— Booklist

"No wonder Dave [Letterman] teamed up with [Bruce] McCall for their new book, This Land Was Made for You and Me (But Mostly Me)...Their book treats readers to the McCallian charm that Letterman has adored since the 1970s, when he stumbled onto McCall's work...[McCall] depicts a wonderland of gracious living writ extravagantly large. His is a Gatsby-like world of urbane but unconscionable excess that feels fancifully authentic, that indeed might have existed in bygone times, or might today, or might tomorrow—that is, if expense, taste and even minimal respect for Mother Nature were no object."
—Frazier Moore, The Associated Press